The First 3 Articles Your Small Business Should Write
Posted On:
3 December 2020
This article is here to get your content marketing strategy out of the starting blocks. We will take you through the first 3 articles we think every small business should write. We explain what they are, how you can structure them and present some handy examples to spark your imagination.
The first articles you write are the launching point for your wider content marketing strategy. You may be reading this wondering what on earth you and your business have to say. Fear of a blank page is completely normal. However, with a little gentle nudging, you'll soon realise the sheer amount of valuable content you could offer AND how it could benefit your business. What better place to start than with your brand itself: what it stands for, your services and examples of your best work.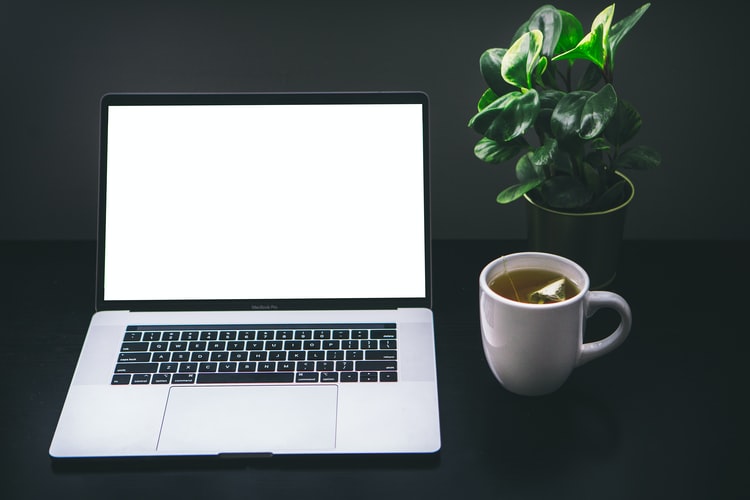 How do Articles Benefit your Brand?
Write more than a couple of articles and you have yourself a blog. A blog is a key component of a content marketing strategy. But how valuable is content marketing, and is it worth investing your time and money in?
We'll let the figures do the talking:
Companies with a blog generate on average 67% more leads than companies without one.
Businesses that blog generate 2x more email traffic compared to businesses that don't.
70% of people would rather learn about a company through articles than through an advert.
Content marketing costs 62% less than traditional marketing.
Even if your website has been around for years, it's never too late to start posting content. Your current website copy is the ideal source for your first articles. 51% of companies say updating old content has proven to be the most efficient content marketing tactic. Kick off your content marketing strategy the easy way. Pull ideas, inspiration and information from the website you worked so hard to create.
But why bother when my website already says it all? I hear you ask.
First of all, as brilliant as your website copy may be, you need a consistent content output to continue to rank on search engines. Given that 93% of ALL web traffic comes via search engines, they play a pretty crucial role. Frequently posted, quality content is how you establish your website's authority on Google, Yahoo, Bing, and the rest. You can read more about using Search Engine Optimisation or SEO here.
Secondly, articles give you a LOT more creative freedom. Your website copy has the difficult job of covering all your bases in a short space. Articles, on the other hand, are far more adaptable. You can focus on specific products or services, appeal to niche markets and experiment with new formats. A content marketing strategy allows you to push boundaries and explore opportunities that you may otherwise neglect.
Now let's focus on the first 3 articles you should start with. It's not about simply copying and pasting your website copy, but creating even more unique, attention-grabbing, lead-generating ways to communicate your brand identity. Let's get started!
Article No. 1: Company Introduction
First impressions matter. Introducing who you are and what you stand for is a tall order. For your first article, focus on your values, team and history to give those new to your company a chance to learn what you're all about. Your first article is all about showcasing your brand personality and what makes you unique.
How to do it?
You don't need to list every team member and core value. There are far more unique ways to showcase what you're all about.
Show what sets your business apart with a list article. A '5 things you didn't know about [insert your company here]' list article is a great way to highlight your unique history. If there's a story behind why you started your business, this is the perfect opportunity to tell it. If your business is focussing on sustainable or charitable endeavours, alongside normal business, this is a great chance to show your customers how you make a difference. You can use this format for any section of your business, whether it's explaining new technology, introducing a new product line or announcing a change in your business' direction.
Top tip! Listicles, or articles that are in a list format and come with a numbered headline, such as '5 Trifle Recipes to Blow your Mother-in-Law's Mind', are one of the most successful article formats. Here we explain why and how to use them to drive traffic to your website.
Show off your team to make your business relatable. Making your brand personable and human goes a long way to establishing a connection with your potential customers. A 'Meet the Team' article, complete with individual profiles and pictures, is a great option. It's scientifically proven that people respond positively when they see faces. Even if you're a SaaS company or insurance firm, showcasing valuable team members (with pictures!) is a better way to build brand loyalty than spouting sophisticated industry jargon. Your employees are your biggest asset, not only are they the ones getting the job done, but building a human connection is a powerful marketing tool. People will always develop a far stronger connection with other people, compared to an object, such as a product or service.
Examples for Inspiration
Starbucks released an article introducing new barista, Aziz, to its EMEA Stories and News page. Firstly, it was a highly personable way for such a huge international brand to introduce a team member. Secondly, it provided the ideal opportunity to showcase the work Starbucks was doing, along with global NGOs, to provide permanent employment for refugees.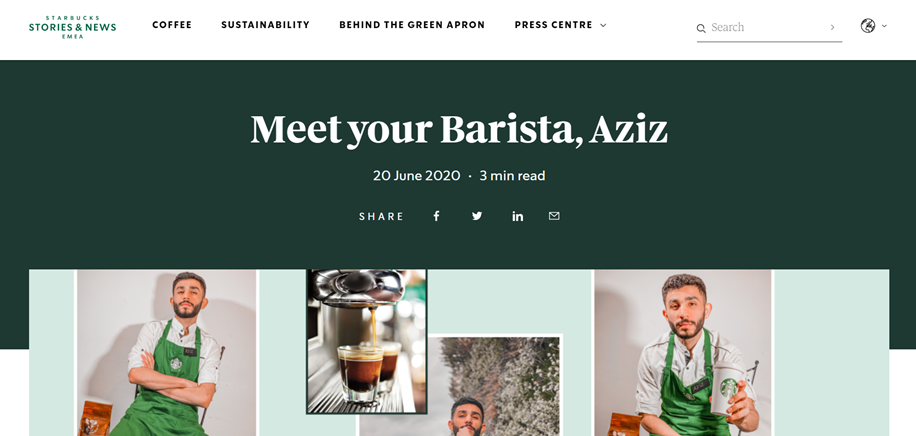 Email solutions provider, Atmail, have been around for over 2 decades but only began blogging in the past few years. Back in 2017, they interviewed the new company CEO, David Richards. The article covers the evolution of the brand but also Dave's 'behind-the-scenes' interests. Showcasing the fun side of the CEO is far more relatable to their average customer than business bottom-lines. This year, Atmail is producing short video interviews with their team members. Not only does it provide that all-important human face for people to connect with, but the videos are incorporated into a broader article and include a video transcript.
Article No. 2: Explain Your Services
Now users have a better understanding of who you are, use your second article to explain the services, products and solutions you provide. This is especially useful if your service is unusual, hard to explain, or something you can't see. An explainer article quite literally spells it out to your potential customers.
While it's good to explain what you do, showing readers how it's done will result in a more relatable article. Show what problems you solve and how you make people's lives easier to connect with your audience on a more emotional level.
How to do it?
Let your customers in behind-the-scenes and show the process behind what you do with a step-by-step guide. Businesses that operate with transparency and openness are more likely to build consumer trust and loyalty in their brand.
Present a problem, then provide a solution. A simple problem and answer format is a specific but highly-targeted way to show exactly how your company makes people's lives easier. Detailed explainer articles such as this are also excellent for promoting new or lesser-known services that need a marketing boost.
Use a list article to highlight what your business does. A '10 Things You Didn't Know [Your Service] Could Do!' is a great way to highlight any obvious but often overlooked elements and explain advanced features in more detail. It also makes use of the ever-popular list format which is guaranteed to grab more readers' attention.
Examples for Inspiration
Even business titans use the 'we bet you didn't know this?!' format to entice and inform new customers about their products. Take Microsoft's 'Top 10 things you didn't know about OneNote' article. Written colloquially, it's approachable and humble. Most importantly, it highlights some of the best features of their OneNote tool that are hiding in plain sight.
Bring it back to basics and explain your industry as a whole, before going in for the hard-sell for your company in particular. The Ingeniums (yes, that's us!) is a content marketing agency. But before we began telling our readers how we create cracking content, we opened a dialogue on why content marketing is necessary in the first place. By explaining what content marketing is and the benefits of using a content marketing agency, we were able to cast a wider net and convince and connect with people sceptical of the industry itself.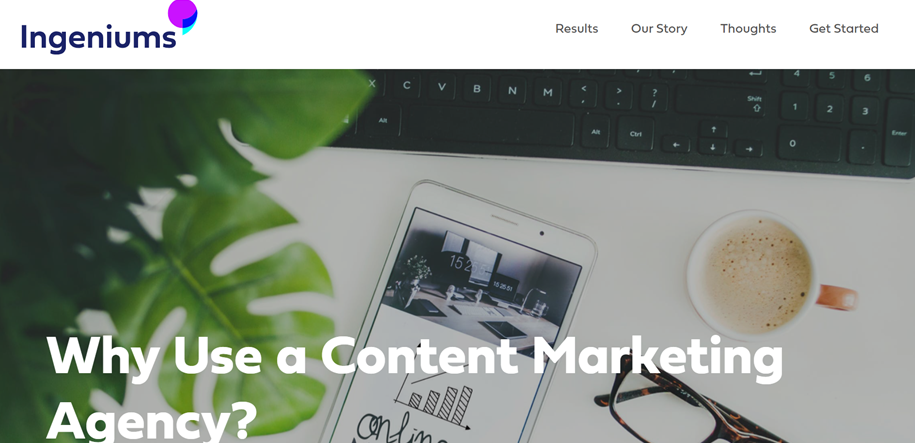 Article No. 3: Why Use Us
You've shown who you are and how you do what you do, but why should people pick your company above all others? Now it's the job of article number 3 to showcase your Unique Selling Proposition (USP) and demonstrate why you're the best at what you do. If you have a branded process that generates impressive results for every client, here's the perfect platform to explain it. Whether it's your team, technique or product that sets you apart, make it obvious in this article.
How to do it?
A failsafe way to convince new clients of your expertise is with previous success stories. Use classic story-telling techniques to capture the reader's attention. Set the scene with the initial problem, then walk them through your problem-solving process and how you provided a solution. End on a high by presenting impressive results and include a call to action so that it's easy for them to contact you.
Present a perspective besides your own with client testimonials. Good reviews are powerful marketing tools but an article that dives into the detail is even more convincing. Ask your long-term, loyal customers to collaborate with you on a client testimonial article and if possible, return the favour. It's a great way for businesses to support each other and provide a different perspective on your blog.
Examples for Inspiration
Web design agency, KIJO, posts case studies for all of their major projects. The articles often also form for the basis of highly detailed portfolio pages that are then added to the website. Here they explain the challenge, strategy and success behind one of their ambitious website and app developments for a luxury international floor covering company.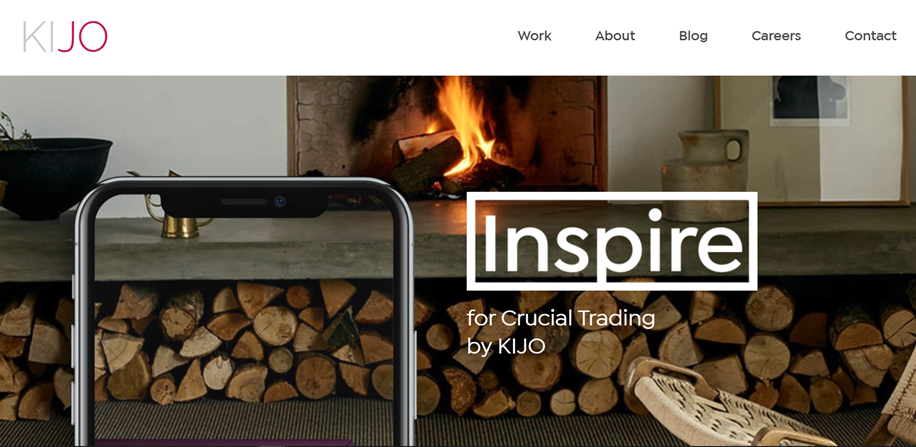 In one case study article, they discuss 2 local SEO projects and take readers through the problem, approach and solution for each. The most impressive feature is the inclusion of results 1, 3 and 6 months down the line. KIJO left no stone unturned when it came to proving their success with facts and figures.
Project management software company, Asana, combined the voice of the customer with captivating storytelling to convince readers of their excellent customer service. Their case study on how they improved productivity, task management and accountability at media company StyleHaul incorporate quotes directly from the client. More an in-depth interview than a step-by-step case study, it offered two perspectives on the process.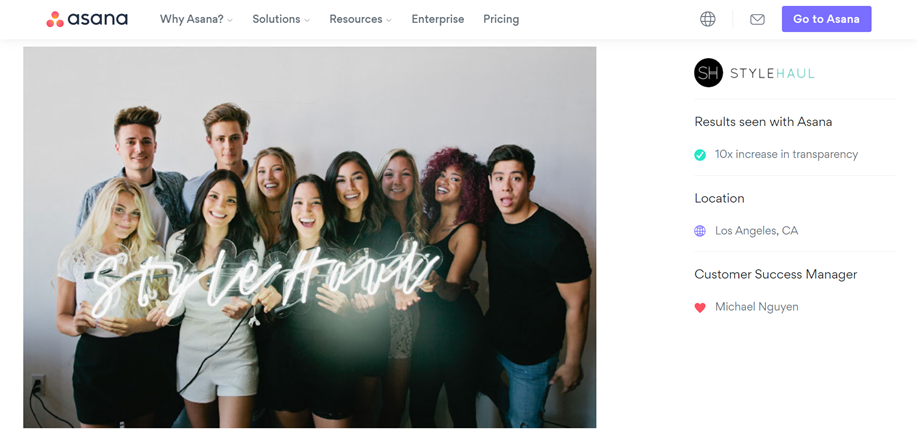 Conclusion: Kick–off your Content Marketing Strategy
What better way to start your business blog than with an article series that showcases what your brand stands for, your services and why you're the best in the business? If you're still daunted by the prospect of writing multiple articles, read our guide on how to create an article series.
We haven't provided you with a word-for-word template of what your 3 articles should look like here. Only you know what your brand stands for, the services you provide and why you're the best at what you do. Those 3 elements are strong places to start when you begin your business blog, but how you say it is your choice. Take your pick from our ideas or try something completely new! There's no wrong way to do this.
If you'd rather focus on running your business and leave the writing in the hands of the experts, the Ingeniums team can help. We'll get to know your business inside out, promote your brand value and engage your target audience. Send the team a message and we can get started.