How the Ingeniums Overcome Content Saturation
Posted On:
6 November 2020
In 2014, marketing entrepreneur and professor, Mark Schaefer, coined the term 'Content Shock'. In his ground-breaking article, he made a radical claim: that content marketing would soon become far less effective. While the demand for content has flatlined, content creation is exponentially increasing. This explosion of content leads to content saturation, where sections of the internet are so full of articles, videos and infographics about a given subject that it becomes impossible to add anything new – or so it would seem.
His article shook the content marketing industry. To some extent, Schaefer was right. The amount of content only continues to increase, while the hours in the day people have to consume it remains unchanged. It was a rather gloomy outlook that offered little hope to anyone without the marketing budget of industry giants like Coca Cola – the vast majority of us, then.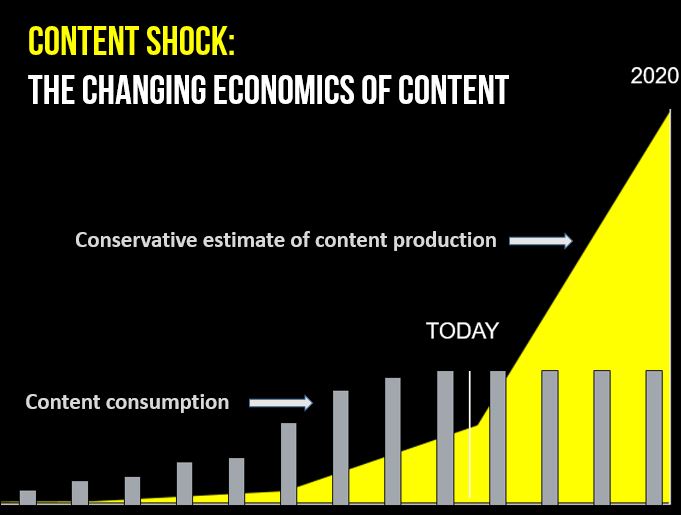 Yet here we are in 2020, content marketing is alive and well and, even better, remarkably effective!
Businesses that blog experience DOUBLE the amount of email traffic as businesses who don't.
Companies with a blog get 97% more links to their websites.
More links = More traffic = More business.
72% of online marketers describe content creation as their most effective SEO tactic.
Content marketing remains an effective way to boost your business's reach and customer engagement.
However, increasing content saturation has changed the game. Churning out quality articles is no longer enough to guarantee success. A sophisticated content strategy, informed by insightful data and combined with imaginative content formats and distribution techniques, are just some of the additional steps now required for your company's content to succeed.
What is Content Saturation?
The amount of content has increased exponentially since the dawn of the digital age. Every month, around 70 million blog posts are published by WordPress users alone. It's undeniable, there is an eye-watering amount of content online.
Content consumption, on the other hand, hasn't increased at the same rate. In the 1920s, the average person spent around 2 hours per day consuming content. By 2014, thanks to the internet and digital media, this had soared to 11 hours. But the time spent consuming content cannot continue to climb; there are only so many hours in the day. As much as marketers would love people to be reading, watching and sharing content around the clock, we all need time for other important activities, you know, like sleeping and eating.
So, until the microchip of the future embeds content directly into our brain, content marketers are competing to produce the most enticing content titles and be included in a consumer's finite daily browsing time.
What Does Content Saturation Look Like in 2021?
We predict that 2021 will see an increasing amount of content created and published. Original content distributed effectively will continue to be the gold standard.
However, there is one statistic that offers a glimmer of new opportunity. While Schaefer's conclusions point to us almost hitting the content consumption ceiling, our screen time is still increasing.
Digital platforms across multiple devices mean we consume more content than ever before. We now simultaneously listen to a podcast, watch the news and scroll Facebook. Our digital lives allow for more multitasking, which increases our time spent absorbing content each day. Taking into account this simultaneous consumption, people now have a 31-hour 28 minute day, half of which is spent consuming content.
What Does Content Saturation Mean for Content Marketing?
Content marketing today is increasingly challenging, but by no means less valuable. It is becoming ever clearer that quality is only one factor in producing engaging content. A well-informed, smart content strategy combined with an imaginative creative process is what's needed for your content to cut through such a crowded market.
How the Ingeniums Makes Sure Your Content Cuts Through Crowds
With the right expertise and approach, even if your closest competitor is saturating the content market, your business has ample opportunity to dominate the landscape. Here are just some of the ways the Ingeniums team go about making it happen.
Find a New Niche
Preparation is key when it comes to producing new content. Before we get to work creating, we assess the current market. We look for the most successful content in your industry, analyse what your biggest competitors are creating and identify where there are gaps in the market. The trick is to accurately recognise and uncover the unsaturated niches. This determines where the most valuable opportunities in your industry lie.
When the gaps aren't easy to find, we do a little more digging. We research to get to know your ideal customer, find out what questions they are asking and which of those questions are being left unanswered. Emerging consumer markets are frequently overlooked by companies that have gotten comfortable using traditional marketing methods. Reaching out to these overlooked customer groups is a straight-forward marketing win!
Sometimes finding a gap in the market requires a sharper focus. More general topics have thousands, often millions of search engine results, but there is rarely such stiff competition for sub-categories. Doing the right keyword research has a profound impact on the success of your content marketing.
Here's an example:
We searched for 'home workouts' on Google. An astounding 988,000,000 results appeared. Content saturation in action!
Then, we searched for 'cardio home workouts'. This time, we got 55,600,000 results. Slightly more manageable.
Finally, we typed in 'speed skipping home workouts', and got 4,510,000 results.
Any speed skipping rope manufacturer out there is going to want to focus on the third keyphrase. Not only is it 219 times less competitive but people searching for something specific are far more likely to convert compared to a casual browser.
Fill the Gap in Your Market
Low content saturation provides the ideal opportunity for you to create quality content and start dominating the market. This is where content shock transforms from the problem into the solution.
Now is the time to create relevant, consistent and superior content. In doing so, search engine results pages in your niche will be dominated by your content and it will be easy for any intentioned customer to find. Keep doing this over time and your authority with both your audience and search engines will continue to grow.
Chart New Territory
This is when you need a forward-thinking content marketing agency that works against the tide to create anything but formulaic content. At Ingeniums, we make creativity a priority. Even in a crowded market, you can make an impact if you think outside the box.
Quality content is the foundation of successful marketing. Injecting personality and creating a recognisable brand voice is an easy way to engage and set yourself apart from the crowded corporate market.
In 2020, customers consume content in various ways other than traditional blogs. Delivering your message in different formats allows you to connect with new audiences. Transforming your written content into a new podcast, conducting a live Q&A on social media or turning your latest statistics into easy to read infographics are all ways to shake up your content formats and extend your reach.
After Quality Content Comes Smart Distribution
Back in 2014, Schaefer believed we were headed for an 'an era where advertising, promotion and distribution strategies may eclipse the importance of the content itself.'
Poor quality content has a short shelf-life, but that doesn't mean quality content alone equals success. Engagement is crucial. Once you have produced something unique and better than anything else out there, turn your attention to getting it seen.
Again, research will uncover your most valuable opportunities. What platforms are your target marketing using and when and how are they using them? Not only do you need to understand what your ideal audience wants to consume, but you also need to know how to reach them.
A good content marketing agency has the tools to uncover this insight and then provide a strategy to suit. Effective content distribution requires a multitude of factors:
A well-planned SEO strategy
Timely social media engagement, with personality!
Thorough internal linking to other related content you have produced
Quality backlink building to boost your content's authority
Coverage in third-party publications
Improve on What's Already Out There
What if you operate in an unavoidable saturated niche, but still want to dominate the market? The skyscraper technique is one way to improve on existing content and get your brand heard.
First, identify an existing piece of content that is popular and performing well. Then, create a more thorough, up to date version that does an even better job. Reach out to third parties and industry bodies to provide valuable backlinks.
Saturated or Unsaturated, There Are Always Content Marketing Opportunities
The extent of content saturation in your market will result in you going down one of two routes:
If it's saturated – do something different.
If it's unsaturated – dominate the niche quickly.
Analysing the current market, uncovering opportunities, and then producing stellar content unlike anything else out there sounds like a lot of work, and it is. Juggling the technical necessities and data analysis with innovative content creation is an art. But that's exactly what a content marketing agency is hired to do.
The Ingeniums are practised in every aspect of the technical process. Beyond that, we never stop putting our heads together to come up with new ideas, unique perspectives and innovative formats.
If that sounds like the kind of creative, customer-engaging direction your company needs, drop us a line and we can start working on creating something ingenious.