Can Copywriters and Artificial Intelligence (AI) Peacefully Coexist?
When it was first suggested I use Artificial Intelligence to create some of our content, I was shocked. All jobs in the twenty-first-century marketplace are under threat from automation and machine learning, but a little agency like Ingeniums? I had read the Guardian article written by an AI, which used machine learning and internet crawlers to digest as much online content as possible. This AI language generator, GPT-3, had appeared to write an engaging and cohesive article. Are content marketers under threat from an AI copy generator? Were people actually suggesting I replace myself and my colleagues with a robot?
They weren't. For starters, we don't have the budget to get an AI processor as powerful as GPT-3. Furthermore, GPT-3 didn't create the Guardian op-ed from scratch. The Editor's note clarifies that the AI was given a prompt, like any other writer, and fed suggested paragraph introductions, such as 'Artificial Intelligence will not destroy humans. Believe me.'
In the same way, using an AI copy generator to manage some of the more boring copy tasks, such as Adwords copy, metatext and newsletters, could free up time for Ingeniums writers to focus on big creative pieces and ideas. 
The only way to know is to try it out.
Testing an AI Copy Generator
We came across Snazzy, an AI copy generator designed to simplify branded content creation. The algorithm gets to know your brand, keywords and audience and uses these details to create copy. It offers templates for landing pages, Google Ads and taglines, as well as tools for generating longer content.
Free copy in moments? Yes, please.
Snazzy's free sign-up means you can get started straight away, without entering credit card details. It has a smooth interface that's easy to use. The downsides of using the free version are that you can only generate 5 pieces of content per day. The templates are limited and fixed, and you can't use multiple personae.
For agencies like ours, with multiple client profiles, a paid subscription at $25/month would enable further customization options and easy branded content.
Can AI generate SEO content?
If you just want keywords, yes: SnazzyAI will use all the keywords you provide it with throughout your copy. You can amend the keywords you use at any point.
However, SEO is more than just keywords. Outbound and internal links,
Do AI Copy Generators Sound Human?
This really depends on the information you give it. The AI copywriter can generate language that's grammatically correct, but sometimes small things in the brief will trip it up. For example, one prompt given to Snazzy's AI returned the following:
"https://www.theguardian."
As you can see, what you give is what you get.
How does AI copywriting Work?
AI copywriting is not magic. And it certainly doesn't remove the need for a copywriter, or at least an editor. It may reduce the number of writers your company needs, which is bad news for those employed at large businesses, but for growing content agencies like Ingeniums, AI copywriting could keep us afloat.
Onboarding – The basics
Snazzy gets to know your organisation and has a great onboarding interface to help you put in everything that matters. It changes its output based on what kind of business you are, your audience, brand keywords and more.
This helps the AI have something to go on when it's generating your content. Without these details, the tone and register of your content will vary wildly, as the AI won't know who it's talking to or where the copy is meant to be coming from.
Templates
Snazzy offers loads of templates that can help save time and energy during those busy weeks. We tried a few out to see what it came up with.
Blog Ideas
I started with this because it's the closest to my day to day. I am forever noting down ideas and trying to come up with briefs for the next few months. So if an AI can take our company info and do this job, I'll have more time to write the articles it thinks of!
Six seconds after hitting Create, Snazzy had churned out 10 title ideas for Ingeniums blogs. They are:
How to Write an SEO Blog Post: A Step-by-Step Guide
How to Get the Most Out of Your Content Marketing Campaigns
8 Tips for Writing a Blog That Gets Read
How to Write a Blog Post: The Ultimate Guide
21 Blog Topics You Can Write About to Attract Business
How to Build a Content Marketing Strategy for Your B2B Company
How to Write a Blog Post That Gets Results
How to Create a Content Marketing Strategy
How to Write a Blog Post: The Ultimate Guide for Business Bloggers
How to Write a Blog Post: A Simple Guide
Interesting Keywords lead to Interesting Titles
These are all pretty good titles, but fairly generic. The AI copy generator takes your brand keywords and turns them into article ideas, so I tried adjusting these for a more nuanced approach. I added 'ideas', 'creative', 'ingenious', and 'search engine' to see what would happen.
The second list:
How to Write a Blog Post for SEO
5 Content Marketing Strategies to Generate Leads
Top 5 Reasons Why Your Small Business Needs a Blog
The Complete Guide to Creating Killer Blog Content
Top 10 Content Marketing Tools for 2019
How to Write a Blog Post: A Step-by-Step Guide
In an SEO World, What Content Strategy Should You Use?
SEO Content Marketing: The Complete Guide to Writing SEO Blogs
13 Blogs Written By a Content Marketing Agency That You Should Be Reading
Top 10 Tips for Writing Attention-Grabbing Headlines
If the titles are too generic, it's because the keywords were as well. Adding more keywords can give more specific ideas.
To help with Snazzy's machine learning, users can flag, give a thumbs up or down, share, save or copy. The AI will take these into account and use this information when it creates more. Hopefully it will get to know what our brand is looking for over time.
Google Ads
If there's one thing I'll definitely use AI text generation for in the future, it's Google Ads. One of those time-consuming jobs that isn't much fun is creating copy for Google Ads. With a limited number of characters and a sales-focussed objective, I don't know any creative that relishes this task. But Snazzy did it for me in seconds, and there's nothing I would change.
Content Expander
The answer to whether AI can replace copywriters depends really on whether the technology can respond to a brief. SnazzyAI offers a tool called 'Content Expander', which says it will 'Expand a single sentence or bullet points into a complete thought'.
So how far does this stretch? There's a maximum limit to the 'bullet points' of 500 characters, but there's a lot you can fit in a small space. To test this feature, I put in the following from one of our upcoming briefs (487char ex. title):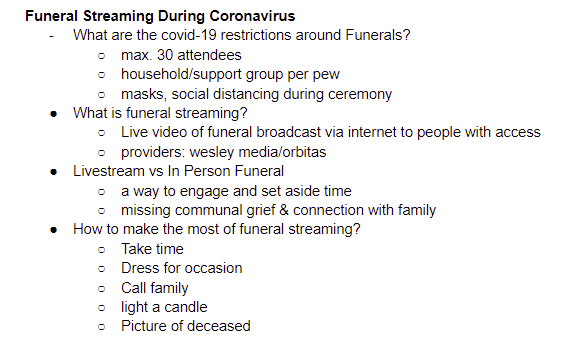 This input returned the output:
What are the covid-19 restrictions around Funerals?

Max.
Clearly the punctuation caused a problem.
I removed it and tried again, and it gave me the following:
"As part of HL Marks' efforts to provide a range of options for people who wish to plan ahead, the firm is providing a new way to allow people to stream their own funeral services in advance. Funeral streaming is a digital alternative to the traditional in-person funeral service where people can celebrate their loved one's life, while honoring cultural and personal preferences.

HL Marks has worked closely with the Health Protection Agency during the development of this tool, which has received approval from both the Department of Health and Social Care and Public Health England, and has also consulted with the British Humanist Association and other relevant stakeholders.

Bereaved people are among those most at risk from the new strain of coronavirus, which causes severe respiratory illness with symptoms including fever, cough, shortness of breath and breathing difficulties. The virus has so far claimed one life in the UK."
For starters, hardly any of this is true! It's nothing like what was said in the notes. If a copywriter gave me this response to a brief, I'd tear my hair out.
Thank the stars. This is proof that robots will not replace writers! It's clear this tool is not designed to create articles but company announcements or updates. But what is it really for?
How to get the best results from Snazzy's AI Content Expander:
Don't Expect Too Much. AI Copy Generators are not intended to write full articles or blog posts for you. They're a helping hand for the smaller copy tasks that take up our valuable time. This tool is better used for press releases or newsletters.
Put the type of content in the Topic field. This helps the content expander understand the goal of the content and offer format suggestions. (I used 'Newsletter' for my next experiment.)
Use full sentences. By writing a full sentence, the content expander can pick up on the key phrases and transform them into separate sentences.
The best results came when I put in: "Our best articles this week include an experiment in AI copywriting, a web design case study and a rundown of illustrators to follow."
The AI Content Expander tool gave 3 options for Newsletter copy, the best of which is below.
As you can see, the AI copy generator has a lot to say about itself, and a suggestion for how we should have conducted this experiment! Otherwise, it has made up some article titles and authors, but all that's needed is to replace these with our own titles and change their descriptions to make this newsletter perfect. 
Content Remixer
Snazzy's Remixer Tool offers to help you 'create limitless versions of a piece of content and unleash your creativity'. As with the Content Expander, the input is limited to 500 characters, so this tool is best used for putting out a few versions of unique copy about the same subject.
I tested the Remixer using one of our old articles. This is one I'd been meaning to rewrite for a while because some of the paragraphs didn't read very well. My hypothesis was that the AI would at least give me something to work from.
My Input:
Snazzy gave me:
The first option has good spacing that helps with skim-reading, but is not that different from what I had before. The second is much better, with sentences that flow together and read in a more engaging way. I chose to combine the best of both and add some line breaks to the second option.
While it's not clear what the Remixer is supposed to be for, I would use this to create multiple social media posts and newsletter copy from article introductions.
Using an AI Text Generator for Web Copy
Landing pages
When we have web copy projects, we spend time getting to know a company's USPs, audience and personality before we start. Could an AI do this?
At the most basic level, yes! If you're looking for just a simple landing page that describes your core offering, Snazzy's AI can bang one out. The AI used all our brand keywords and the company description that were put in at the Onboarding stage to produce copy for all the core sections of a landing page.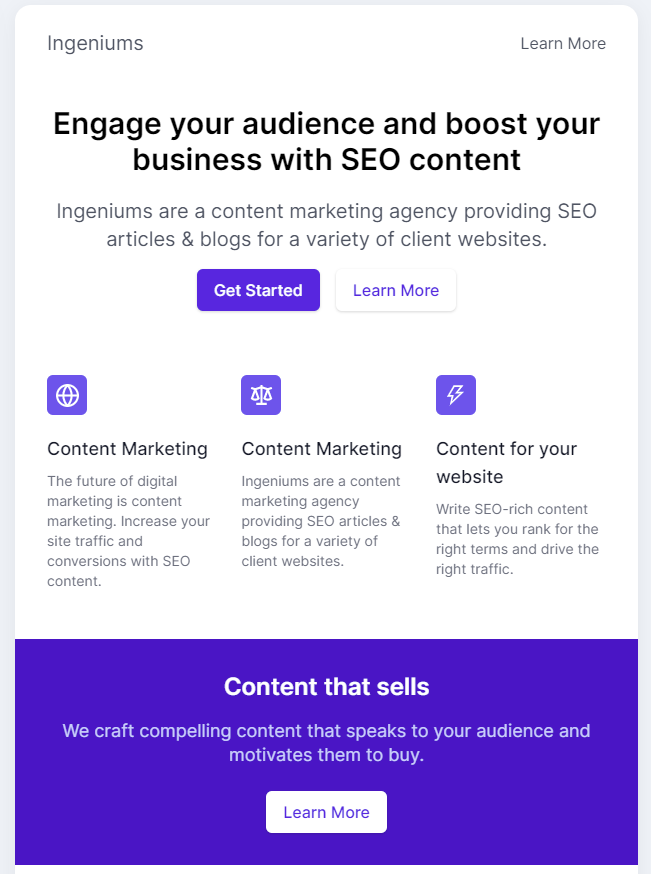 The heading uses incentive-based language to engage viewers, and it created an engaging call to action to direct users to 'learn more'.
However, the AI didn't have enough information to create distinct service descriptions. Two out of three had the same heading and the copy is all about SEO content.
Web Copy With Benefits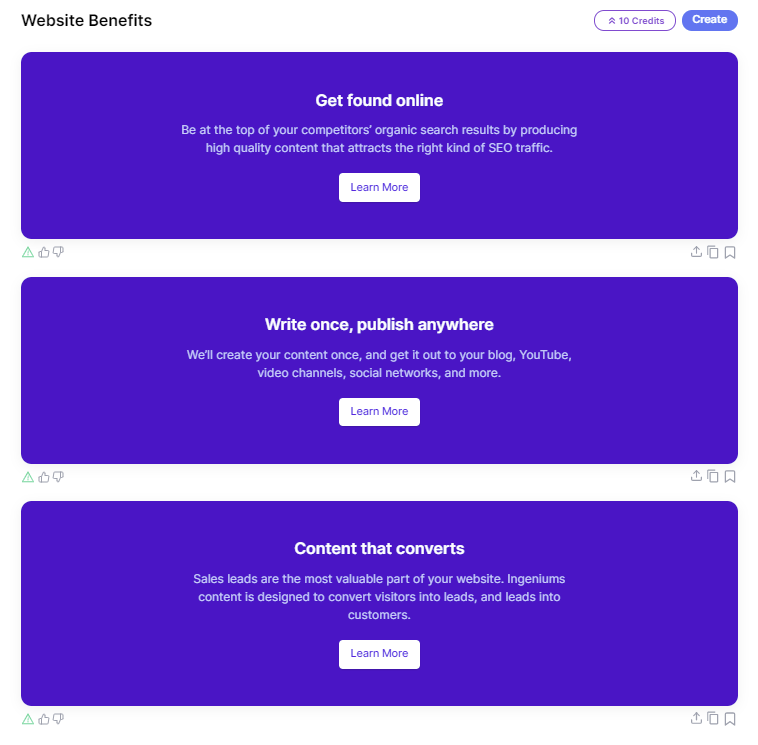 Snazzy AI can also create benefit-focussed copy for your website. Using your brand profile and similar websites, the algorithm isolates the most valuable traits of your products or services and puts them into sentences. This took less than a second and I would choose any one of these for Ingeniums.
This AI can also be used to create Headers & Descriptions for your website, such as:
That the webapp presents this copy as it would appear on the completed website helps users visualise how each statement will come across. This can be copied direct into your website development or web copy document and used straight away.
Snazzy AI's other features:
Snazzy recently updated their tools and templates, so there is a lot to explore. With 25 free credits on sign-up and 5 free credits each day, free users can experiment with AI text generation easily. There are templates for:
Sales Outreach Emails
Pitch Emails
TikTok Video Ideas
Features (Web Copy)
Mission Statements
Google Ads
Facebook Ads
Meta descriptions
Amazon Listings
These are just a few, and I don't have credits to try them all out. But I know next time someone asks me for some 'quick micro-copy', I'll be delegating that task to a robot.
What I learnt about AI Copy Generators from Snazzy
You Get what you Give
Without a clear idea of what you want, a good brief and a full description of your brand, an AI can only do so much. The more detail you provide, the better content you will receive.
Write Robot, Edit Human
Use the AI for first drafts and ideas only. Your human brain and knowledge of language is always going to be able to spot errors. While spelling and grammar are taken care of, check for statements that need fact-checking, sites to include internal and outbound links and ways to format the copy that make it more engaging.
For those minor tasks your business needs, AI copy generators can be time-savers. But they are not a replacement for human writers. You still need to create well structured briefs for the AI to work from and edit the AI's outputs. For quality content marketing that engages customers on a human level, only a human will do.