10 Proven Ways to Get Traffic to Your Website with Content Marketing in 2021
Posted On:
27 November 2020
Content marketing isn't just writing words and passively waiting for interested readers to happen across your website. The best content marketing techniques actively attract website visitors, as well as providing valuable, engaging information. Pretty good, isn't it?!
In this article, we show you the latest, free, methods to get traffic to your website with content marketing. From technical SEO to attention-grabbing headlines, we're lifting the lid on what gets visitors flocking, pumps up those search engine rankings and ultimately, boosts your brand and business.
The Ingeniums team are an effervescent bunch of writers and SEO nerds, hell-bent on delivering engaging content that makes a difference to our clients and their business bottom lines. If you're reading this and fancy a slice of the action yourself, don't be shy! Drop us a message and we can get the ball rolling.
Table of Contents
1.The First Step: Keyword Research
2.Satisfy Search Engines: On-page SEO
3.Overcome Content Saturation: Create Insatiable Content
4.Stop Scrollers in Their Tracks: Write Showstopping Headlines
5.High Click-through Rates Every Time: Why List Posts Work
6.Navigate Readers to your Wider Website: Include Calls to Action
7.Maximise the Potential of Evergreen Content: Improve Internal Linking
8.Keep People Coming Back: Create a Content Strategy
9.Attract International Website Traffic: Translate Existing Content
10.Broader your Scope Across Platforms: Repurpose Content for Social Sharing
The First Step: Keyword Research
Let's think about how to get traffic to your website in a logical order. Most people that end up on your webpage will have started their internet journey with a search query. Potential readers type questions or phrases into search engines, like Google or Bing, to find what they're looking for. Keyword research is the technical term for finding out exactly what your ideal readers are searching for, which phrases are the most popular and the easiest to rank for. Once you've established the words you need to target, then you can get on with creating focussed content. This is the first step of any content marketing strategy and will inform all of your writing.
Keyword research serves two purposes. Firstly, it can help you nail down the most valuable keyword or phrase. There are brilliant tools online to help with this. Our favourites include Ahrefs, Google Keyword Planner and Moz Keyword Explorer.
The two key metrics to look out for are Volume and Difficulty. You want a high keyword search volume as this means enough people are searching for the term for it to be viable. At the same time, you want a low keyword difficulty score, which means that the competition isn't so stiff that it's impossible to get a decent ranking.
The second purpose of keyword research is to help you spot the gaps in the market, which you can then fill with your content.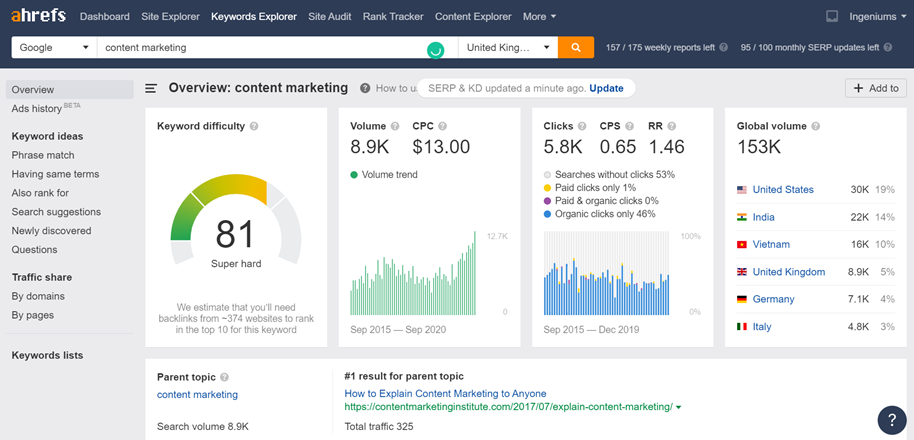 Target High-Value Traffic
It's important to remember that not all website traffic is valuable traffic. Try to target specific customers with high purchase potential. Long-tail keywords are phrases that are generally three words plus and more specific. While they don't result in huge numbers, long-tail keywords generally pull in far more intentioned customers. More intentioned visitors mean higher quality traffic and more conversions.
Satisfy Search Engines: On-page SEO
Once you have pinpointed your keyword or phrase for a certain topic, incorporating it in a way that search engines recognise is the next step. Content marketing done right can catapult your search engines rankings, putting your site every closer to the top spot on page one, the holy grail of search engines results.
On-page SEO includes meta descriptions, image alt tags, heading formats and keyword density, and that's just to start. Don't panic, it sounds more complicated than it is. Any content marketing agency worth their salt will know the on-page SEO process inside out. If you're giving it a go yourself some brilliant software tools can help, we discuss our favourite, Yoast, here.
Overcome Content Saturation: Create Electrifying Content
In an ideal world, great SEO would be all that's needed to earn the top spot on Google, but in reality, your content doesn't exist in a vacuum. Not only do you have to show Google what you're made of, but you also have to stand out from everyone else who is trying to do the same thing. There's now more content on the internet than ever before. Whilst not necessarily disastrous, this does make life a little harder.
Standing out within an increasingly crowded market is difficult, but not impossible. In our article on how we tackle content saturation, we explore a host of content marketing methods that will cut through the noise and get your message to stand out. Skyscraper content creation, experimenting with new formats and smart distribution are just some examples.
Stop Scrollers in Their Tracks: Write Showstopping Headlines
Ranking on Google doesn't automatically equate to website traffic. You still need to get those search engine users to click on your content and that is the job of a standout headline. Communicating the purpose of your content in a succinct, catchy way is a challenge. The key is to be entertaining and engaging on an emotional level, whilst still being blindingly obvious. If your content is answering a question or solving a problem, you want to make the value of that content abundantly clear.
Look at your most successful articles, and see what is common in their headlines. Use what you learn, and try writing 10 headlines for each article to get the creative juices flowing. Pick the most exciting. You can use unused headlines for social media sharing, email subject lines and subheadings within the article.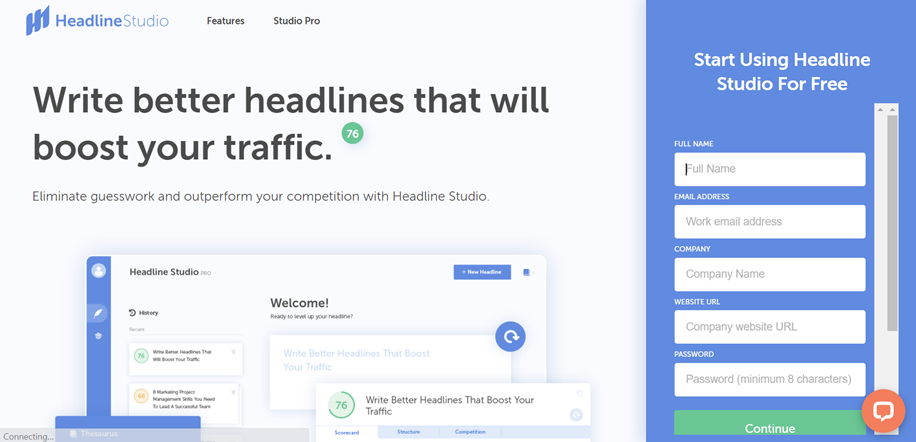 There are some brilliant free tools available to assist with headline creation. A good place to start is Headline Studio from Coschedule. This site provides constructive feedback and actionable suggestions to help you improve your headline writing game and boost website traffic.
High Click-through Rates Every Time: Why List Posts Work
One of the most popular content formats is a numbered list post. Publishing giants like Buzzfeed use list posts all the time. Why? Because they work! Numbered list headings catch the eye and trigger the synapses. Once a user has clicked the link, the posts themselves are easy to navigate and quick to read.
Lists posts are so effective at driving website traffic because the headlines set specific expectations for the reader, promising a quantifiable return on time invested. As long as your content fulfils its promised purpose, you have succeeded in the eyes of the reader.
Navigate Readers to your Wider Website: Include Calls to Action
You've hooked them with the headline and wowed them with the content. Hurray! Now you've established a rapport, it's time to redirect them to the rest of your site with clever calls to action. You want to make it as easy and attractive as possible for users to find other areas of your site before they press the back button and look elsewhere. Within your content pages, include social sharing buttons, present other articles of interest and provide links to tantalising offers to drive traffic straight into your sales funnels.
Maximise the Potential of Evergreen Content: Improve Internal Linking
Evergreen content is content that doesn't date and can be updated time and time again. Frequently asked questions are a common example, as are how-to tutorials and product reviews. These pages often answer the most searched for questions and therefore draw in a large proportion of your website traffic. Make the most of this by including internal links to keep visitors on your site and improve the user experience.
Cornerstone content is the best, most important content on your website. You can similarly make these pages the centre of an extended network of links that take users to the rest of your site.
Keep People Coming Back: Create a Content Strategy
The long-term aim of content marketing is to establish loyalty with a brand that keeps customers coming back. Consistent content is the key to achieving this. It signals to search engines that you're a reliable source of information, this boosts your domain authority which improves your rankings. A well thought out strategy with timely posts also impresses readers. Over time, it builds a highly credible, relevant website that fosters loyalty among your readers.
Attract International Website Traffic: Translate Existing Content
Get traffic to your website from all over the world by translating your content. There is a glut of content in the English speaking online world, but competition is often significantly less in other languages. Do your research beforehand to find out which languages will provide the biggest return and then get going. It may seem like a daunting prospect initially, but it's a fairly straightforward process. If you're using WordPress, check out this article we wrote for web design agency, KIJO, on how to do it.
Broaden your Scope Across Platforms: Repurpose Content for Social Sharing
A tried and tested method, social sharing is still one of the best ways to get traffic to your website. Break down those brilliant blog posts into short, sharp snippets that pique people's curiosity and get them onto your website. Any long-form content can be repurposed to better lend itself to social shares. Try creating infographics and bite-sized statistics or pulling out quippy quotes to caption your posts.
Diversify the Techniques You Use to Drive Traffic
It's important to diversify the techniques you use to get traffic to your website. Try not to rely solely on one at the expense of the others. This way, should your SEO falter or a social platform update push back your posts, you are still drawing in traffic from other sources.
Most of the methods we have discussed here come at no financial cost. Having said that, nothing is more valuable than business time. Employing a dedicated content marketing agency, with the tools and expertise to create click-worthy content, can be a wise investment. If this sounds like the next step for your business, send the Ingeniums a message to get started.