Finding Content Opportunities: How to do Keyword Research
Posted On:
14 January 2021
To formulate a successful content marketing strategy, coming up with unique concepts and mind-blowing articles will only get your business so far. There is a science behind the creativity that's equally important and makes sure your content is seen by your target audience. Finding content gaps and taking full advantage of the opportunities they provide is the first, crucial step when formulating your content plan. Keyword research is one way to tap into the vast amount of data and find the niche that is going to give you the best return on your investment.
In this article, we explain what content gaps are, why they're valuable and how you can find them. Then, we show you how to do keyword research to turn those opportunities into a successful content marketing strategy.
What are Content Gaps?
A content gap is an opportunity. In its most basic sense, it's finding a vacant spot amid the glut of available content where you can insert your brand and message. There are millions of blogs and articles already out there, in the industry we call this 'content saturation'. Finding a gap in such a crowded market is a highly valuable but difficult task. 
Content opportunities come in many forms. Along with uncovering gaps in the market, you can also analyse where existing content is underperforming.
Is the existing content on the topic outdated? If it was written more than a couple of years ago, chances are that the information will need an update.
Does it promise a lot on first impressions, but deliver little detail? You can create a much more comprehensive article that is more valuable to your audience and leapfrog information-scarce articles in the search engine results pages.
Any lacklustre article, be it visually unappealing, difficult to read or awkwardly structured, provides an opportunity to deliver something better and more successful.
The First Step: Understanding your Customer Personas
Keyword research is a core element in creating a strategy that takes advantage of the content opportunities available to you. The first step is to figure out what your audience is looking for.
Even if you already know your customer inside out, customer requirements change, and consumption methods shift over time. It's a smart idea to follow this process periodically to make sure the content you create is solving your customers' problem. Get into the mindset of your audience and think through your customer journey. Who is your audience? Create consumer personas that include age, gender, occupation, location, lifestyle and hobbies.
From here, think about the information they need from you. What are the questions that they will be asking about your product or service? By working from what your customer's perspective, it's easy to see if your website or blog is falling short in any area. Once you have a clear understanding of what your customer is looking for, you can tailor your keyword research and competitor analysis.
How to do Keyword Research
Keyword research is the process of identifying the key terms and phrases your target audience are typing into search engines like Google. A detailed overview of what your customer needs from you and the areas your current content might be lacking is an ideal starting point. Keyword research will help you to find the exact phrasing that will give you the best chance of high Google rankings and increased audience reach.
What Makes a Good Keyword?
Because keyword research tools provide a huge range of data on search terms, there are many ways to decide which keywords are worth targeting. At Ingeniums, we begin our research by focusing on 3 keyword metrics: volume, difficulty and cost-per-click. Comparing data across all 3 gives us a well-rounded view of the potential of the keyword. It also gives us a good indication of the work we will need to put in to rank for it.
Volume
This is the average number of the times people are searching for the keyword or phrase in a month. The highest volume of monthly searches often goes to shorter, more generic terms known as head terms. They are very competitive keywords, with lots of content on them. It's brilliant for your traffic if you can rank highly for these terms, but you will need to establish strong site authority and a large number of backlinks to do so. Head terms should form part of your long-term content marketing strategy.
Long-tail keywords are more specific and have a lower monthly search volume. They are less competitive and often attract far more intentioned users. Long-tail keywords can bring your site excellent results, quicker than broader head terms. The best strategic choice is to target a mix of the two for short and long-term gains.
Difficulty
Closely related to volume, most keyword research tools provide a 'difficulty score' for each term. The data types used to calculate this score will vary depending on what keyword research tool you're using. This metric gives a good indication of how hard it is to rank in the top 10 search engine results for that keyword.
The most successful pages have high domain authority. This is the measure which search engine algorithms use to decide which page is the best source of information. One way they earn this is by attracting links from other websites, which are called backlinks. The more backlinks a page has, the more valuable and successful it looks to a search engine. A keyword's  'difficulty score' will be much higher if the top-ranking pages have lots of backlinks. This means your site will need significant domain authority to compete. 
Cost-Per-Click
Cost-per-click is the average price that advertisers pay for each click on a keyword in a paid search results campaign. For organic searches, you may think CPC is irrelevant. However, this metric provides valuable insight into the return on investment you are likely to get for targeting that keyword. The higher the cost-per-click, the greater the probable buying intent of someone searching that term. Content that ranks for these valuable keywords has a high chance of resulting in customer conversions.
The Best Keyword Research Tools
When learning how to do keyword research, there are a vast number of tools to help you. Which ones you choose to use will depend on your budget and personal preference.
There are several free tools, such as Google Keyword Planner and Answer the Public. Both of these tools use data gleaned directly from Google and are therefore highly reliable sources of information. While you don't get the granular detail provided by other keyword research tools, these are excellent resources for generating article and content ideas from a head term keyword.
Generate Content Ideas Based on Existing Demand
We searched for 'email marketing' in Answer the Public. The results generated are a collection of the most common Google searches that include our keyword 'email marketing'. There's even a breakdown of the most popular questions people are asking on the topic. This is a brilliant place to start when coming up with content ideas.
Answer the Public gives you a visual overview of keyword demand in seconds. Use it to help you decide which topics you want to cover. From there, you can then input your keyword into a more detailed tool to find out who your biggest competitors are and where their content is underperforming.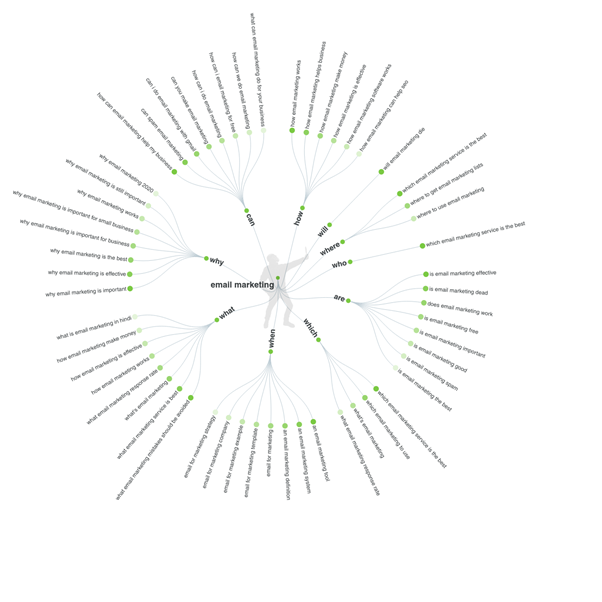 How to do Keyword Research with Ahrefs
Now you know the key metrics to look for, we'll take you through how to do keyword research with one of our favourite tools, Ahrefs. Start by searching for a general topic you want to write about. You can then find more valuable keywords which are more likely to result in successful content.
We searched for 'email marketing', which brought up the following results: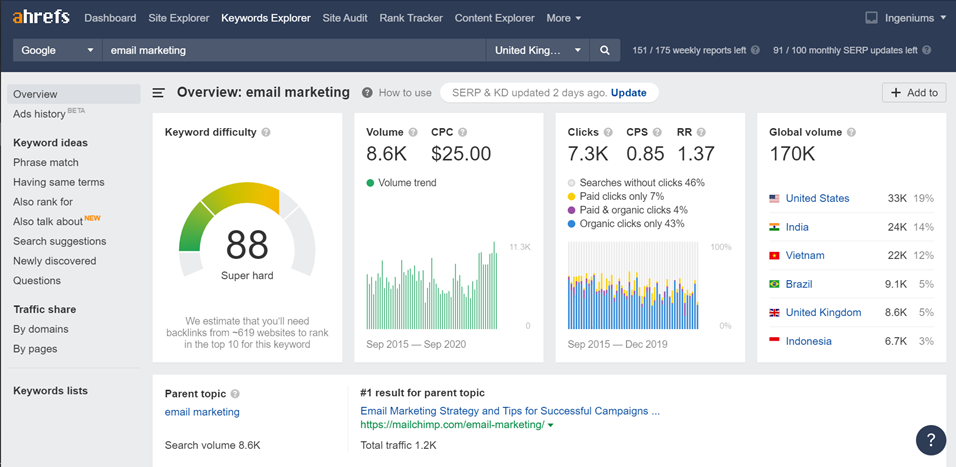 With a monthly search volume of 8.6K and a CPC of $25, the term is no doubt highly valuable. But with a difficulty score of 88, our site would need approximately 619 backlinks before we would make it onto the first page of Google. This means an article targeting this keyword would need to be linked by 619 other pages on other domains to compete with the content that already exists. It's a great long-term goal, but for short-term gains, let's do some further digging.
How to Find Long-Tail Keywords with Ahrefs
We can use the 'Keyword ideas' menu (on the left) to help us find less competitive keywords that could be more valuable. Ahrefs can provide you with thousands of keyword variations. You can make your keyword research more targeted and effective by setting some parameters. If you are looking for long-tail keywords, reduce the keyword difficulty score range. This way, you won't see the most competitive head terms. To bring up keywords which have a minimum amount of traffic and are worth investing time and content in, set a minimum monthly volume search. 
On the 'Phrase Match' page, we set the keyword difficulty range between 30 and 60 and a monthly volume search above 50. This brought up the following search terms: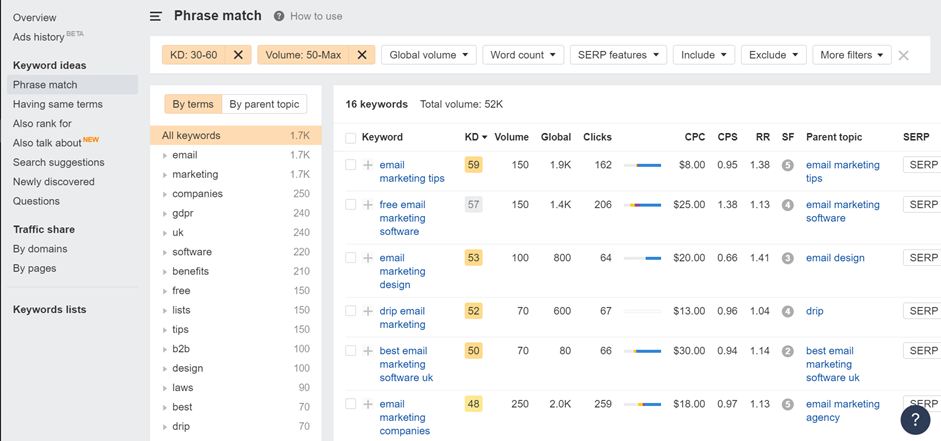 Straight away we can see that 'email marketing tips' and 'best email marketing software uk', would be useful places to start when considering what content to produce. They are less competitive than the head term and therefore easier to rank for. However, they still attract users with high purchase intent, as we can see from the CPC data.
Keyword Research and Competitor Analysis
Assessing the performance of your competitor's content is an additional way to find content gaps and the best keywords for your content marketing strategy. There are two ways to approach this.
First, you can look at what terms your competitors are ranking for, even if you haven't yet chosen a keyword to target. To find out who your competitors are, enter your domain name into Ahrefs 'Site Explorer' tool. In the left-hand menu, click on the 'Competing Domains' tab. This will show you a list of sites that are ranking for similar keywords to your site.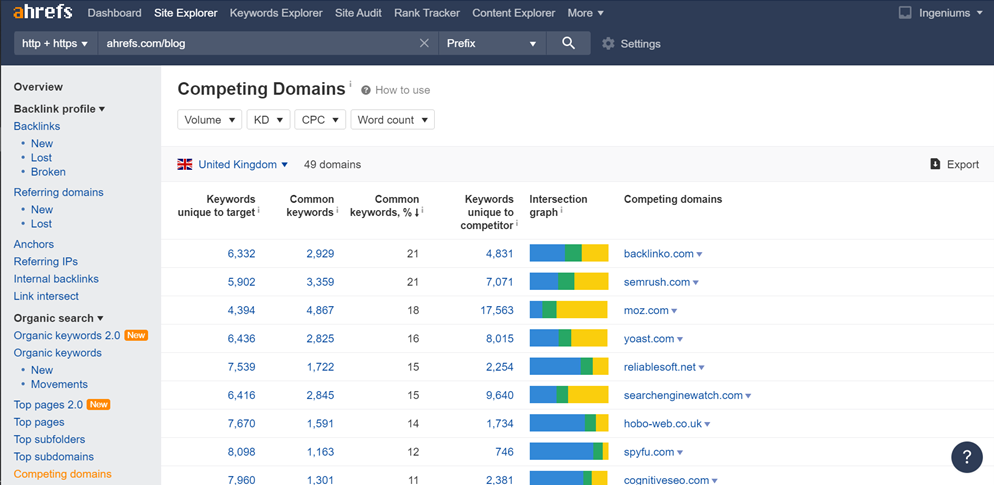 From here, you can find out more about your biggest competitors. Click on the blue arrow next to their URL for links to their site overview. You can view information on the organic keywords they are ranking for and more. With Ahrefs, you can find out your competitor's top-performing pages and see which content is ranking for your target keyword. If there is a brand dominating your industry, this is a brilliant tool to help you understand how and where they are succeeding and spot gaps in their strategy.
The second option is more useful when you have already selected a specific keyword. With this method, you can look at which sites are the highest ranking for the keywords you want to target. If we decide to target 'email marketing', it's a good idea for us to check out the top-performing pages for this keyword. In the 'Traffic share' menu, we can click on the 'By pages' tab, to view a list of the top-performing pages.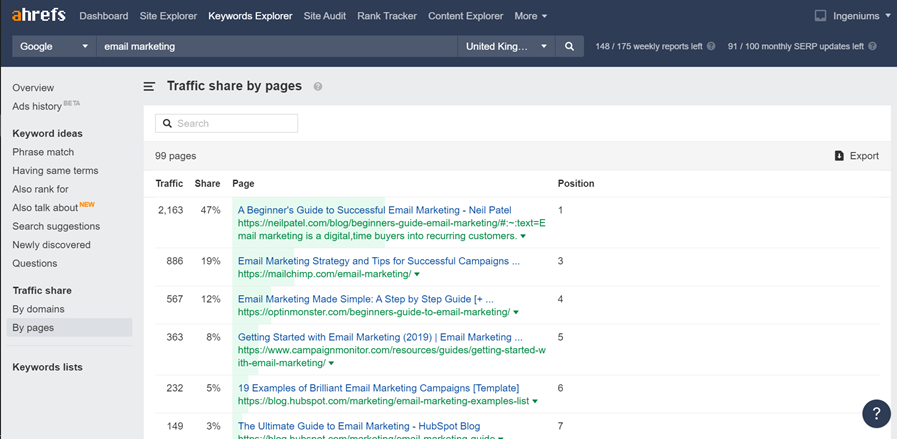 We can now look through the existing, high-performing content to see what they are doing well and any areas for improvement. Identifying these all-important content gaps are how you can ensure you deliver a more valuable article. In the content marketing industry, this is known as the skyscraper technique.
How to do Keyword Research in 6 Simple Steps
Identify your customer personas to understand exactly what your customer needs.
Look at the data on your competitor's websites to see the keywords they are ranking for.
Brainstorm a list of keyword ideas that you think are relevant.
Enter these into Answer the Public to find a wide range of connected keywords that people are currently searching for on Google.
See which of these are good keyword opportunities using Ahrefs. Compare the volume, difficulty and CPC data to find the best option.
Look at the top-performing pages for your chosen keyword to spot gaps in the existing content.  
How to do Keyword Research to Find Content Opportunities
Whichever way you go about your keyword research, keep focused on finding areas of opportunity. Keep lists or mind maps of keyword ideas on hand so that you approach your research in a structured manner.
We use keyword research tools every day to uncover new opportunities for our clients and find promising, unique content gaps. The data is vast and rapidly changing, but there are always valuable insights to find. If you would like a smarter content marketing strategy that makes the most of every opportunity available, get in touch with the Ingeniums team. We can put our skills to use and get your content ranking quickly.