2020's Most Successful Content Marketing Examples
Posted On:
18 December 2020
In this article, we wrap up 2020 with a selection of our favourite content marketing examples. As a content marketing agency, we are always on the lookout for brilliant campaigns that are driven by content. Rather than the hard sell, we are interested in brands showcasing their core values, answering customer's burning questions and engaging their target market.
Content marketing success can be measured in many ways, including an increase in website traffic or product purchases.  Brand awareness and loyalty are less tangible in data terms. However, these long-term goals build a foundation on which your business can achieve lasting success.
Some of the content marketing examples featured have delivered content specific to 2020, providing relief, entertainment or inspiration throughout a trying year. These campaigns are uniquely tailored to the current situation and have seen excellent immediate success.
Others have been around for years, with companies continually tweaking and improving their offering. They deserve a mention for their long-standing success and the community they have forged around their brand.  
Patagonia's 'Buy Less, Demand More' 2020 Campaign
Outdoor clothing brand, Patagonia, has always championed sustainable manufacturing, recycled materials and fair working conditions. This year's content marketing campaign was no different. The 'Buy Less, Demand More' mantra formed the nucleus of their message, which focussed on the damaging effects of fast fashion. With the campaign page posted in time with the Black Friday deals, Patagonia's timing was faultless.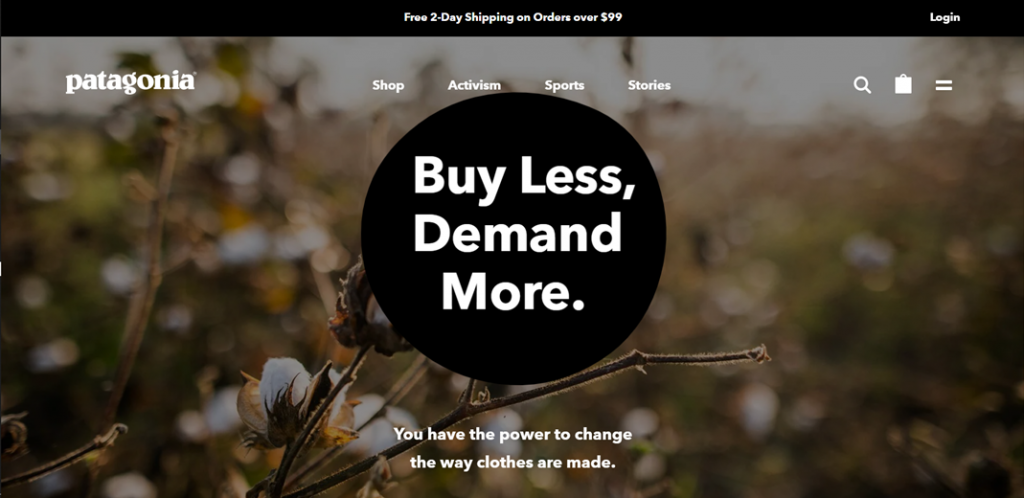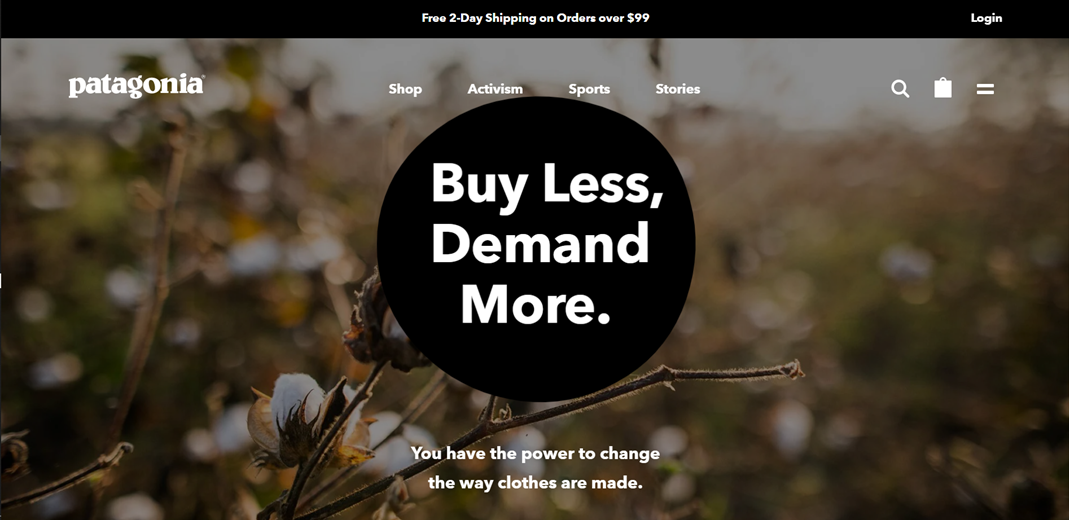 The company released a series of stories and video clips to highlight the impact of mass consumption on the planet. In doing so, they showed readers that they have the power to be a part of the solution. There are links to repair guides and video tutorials and their standout feature story on quality and environmentalism. The campaign page acts as a jumping-off point to their long-term content marketing strategy – the Stories page.
Patagonia Stories
Patagonia's Stories are magnets for website traffic. Their article on greenwashing unearthed deceptive fashion brands using false environmentally-friendly claims for marketing gains. It improved site performance across the board, ranking for 295 organic keywords and drawing in 436 backlinks. Long-form stories are a stable and impressive element of Patagonia's wider marketing strategy. 
With Stories, Patagonia shows potential customers the ethical and environmentally sustainable processes behind every garment. In doing so, they indirectly justify their significantly higher prices. It seems counterintuitive for a clothing brand to encourage people to repair and hand down items. However, Patagonia's unwavering commitment to wider company goals shows their integrity. They consistently reinforce the brand's core values, which incites trust and respect from the customer.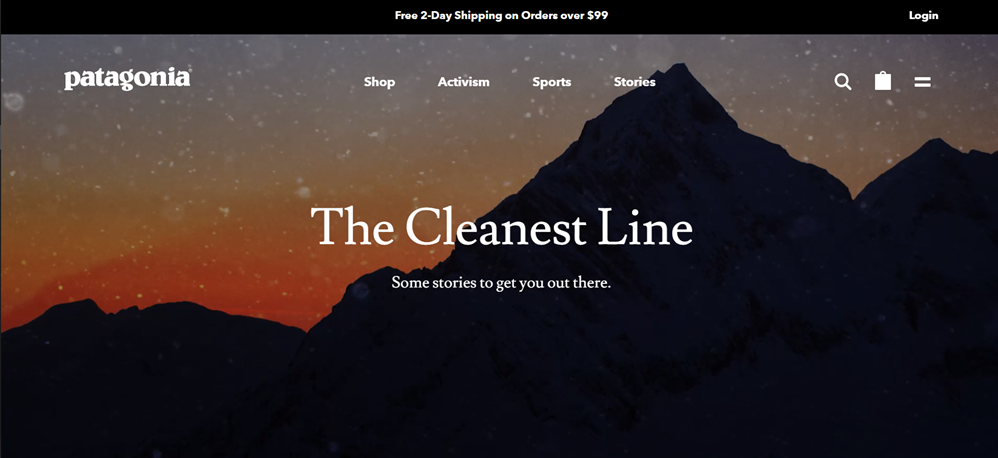 Consumer-centric Black Friday sales provide a unique challenge for brands like Patagonia with a company ethos geared at sustainable purchasing. In 2016, they donated 100% of their profits from Black Friday sales to environmental charities. The articles posted about this still draw over 30% of their blog traffic. In 2011, they ran a 'Don't Buy This Jacket' ad in the Black Friday edition of The New York Times. Their article explaining the move is still one of the best-performing pages on the UK's Patagonia Stories page this year. This year's strategy will no doubt also add to their long-term content marketing successes.
Intrepid Travel's Blog 'The Journal'
Intrepid Travel is committed to delivering big travel adventures to small groups, with an emphasis on travelling responsibly. Last year, they redesigned their content hub, 'The Journal', where they post stories from group travels and document adventures. Created in 2017, the success of their venture throughout 2020 is testament to the power of content marketing to connect with target audiences.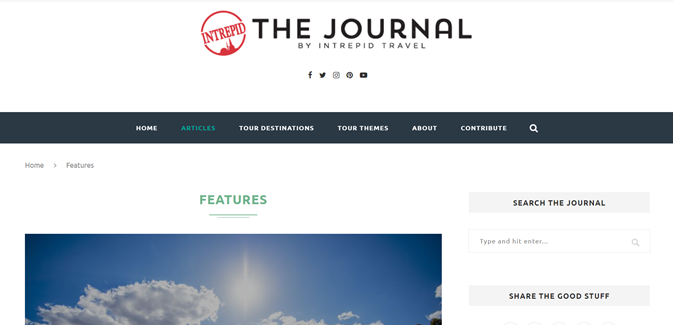 'The Journal' page currently has 2.6K referring domains, ranks for 93.9K organic keywords and organically pulls in 61.9K readers each month. This translates to an organic monthly traffic value worth $68.4K.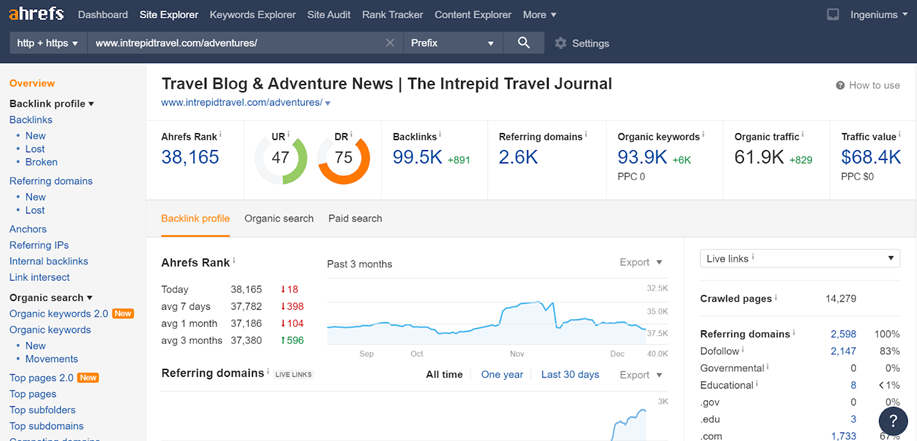 'The Journal' includes features, destination guides, traveller stories, interviews and more. Some articles are guest-written by travellers themselves, providing an honest, first-person perspective of the tours. The content is also interspersed with images taken by travellers themselves.
Why 'The Journal' Works
The tell-all style has helped the brand connect with their core audience. Showing audiences the tours is a more honest and effective technique than the hard sell. In place of cost breakdowns and itinerary details, 'The Journal' delivers a holistic overview of a trip, location or experience. The personal nature of the content creates an emotional connection with the reader. This fosters much stronger brand loyalty than facts and figures.
Instead of showcasing only positives, Intrepid Travel's top article is titled 'The demise of Sihanoukville: Why we no longer travel there'. An article describing a reduction in your company's offering may seem counter-intuitive. Even more so here, as the content exposes Intrepid Travel's business as contributing to the damaging effects of the industry. The piece describes how Cambodia's seaside resort, Sihanoukville, has been swamped by the tourism industry. The effects, both environmental and social, have damaged the lives of residents. However, by stopping their tours in the area, the brand has demonstrated commitment to its core values. Posted in January this year, the article gains Intrepid Travel's Journal almost 1000 visits every month. It also holds the No.2 search result for searches for 'Sihanoukville' (No.1 for 'sihanoukville cambodia').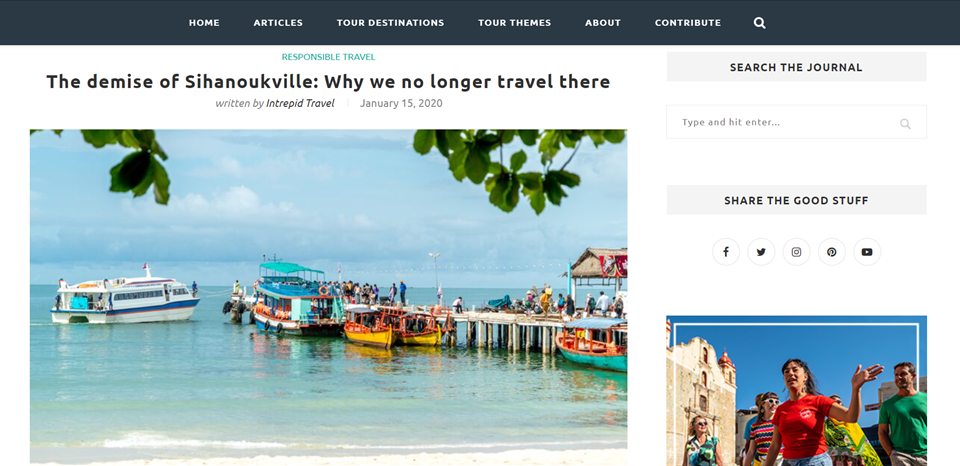 Rather than deterring people from the business, it informs those looking to travel to a popular destination of the damage tourism there has caused. It shows Intrepid Travel to be radically honest. They don't hide from the dangers their industry poses to remote destinations but help travellers choose responsibly.
The Journal contains links to book tours, calls to action to sign up to their newsletter and social sharing buttons. Structuring the site this way will enable the Intrepid team to get a complete overview of how 'The Journal' is performing and work out their return on investment. 
HubSpot's Content Upgrades
HubSpot is one of the world's largest and most successful marketing and sales companies, helping businesses to attract and convert customers. Anyone in the marketing world will have come across their blog at one point or another. It's an endless resource of long-form articles, explainer pieces and listicles, covering every imaginable marketing topic. To maximise their reach and collate valuable customer data, HubSpot use content upgrades on every blog post.
What are Content Upgrades?
A content upgrade is a free resource that blog readers can access, usually in return for their email address. It could be a pdf of the article that they can access offline, free templates, or further information on a topic. Content upgrades are predominantly free and are a great way to organically grow your following, customer database and promote your brand's authority on a topic. This technique works because a content upgrade offers the reader a tangible and immediate benefit to joining your mailing list.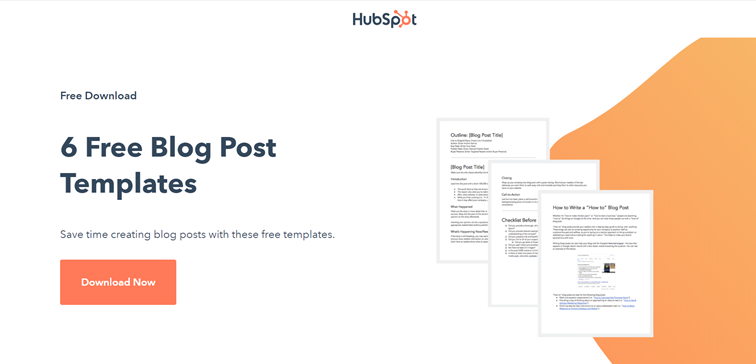 For example, HubSpot's 'How To Write a Blog Post' article is a long-form article, explaining the key features of a great blog and providing examples you can follow. It answers popular queries readers pose on how to write a blog post. The valuable information showcases HubSpot's knowledge and establishes trust and familiarity with the brand. 
The article alone provides a huge amount of detail and is a brilliant resource. It currently has 1,496 referring domains and attracts roughly 23,200 organic viewers each month. While this article was published in 2018, its referring domains grew rapidly between March and August 2020. This suggests that other marketing blogs were sharing the post to promote the content upgrade.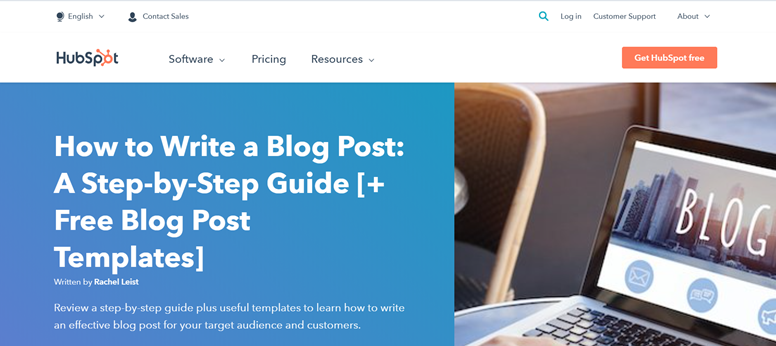 The content upgrade provided – in this case, 6 free blog post templates – works to transform readers into subscribers to Hubspot's mailing list. Top-performing articles are an ideal opportunity to place your other marketing tools directly in front of engaged audiences. 
Because the article is already high quality, the content upgrade is simply a bonus that builds on this foundation. Combining content marketing with data collection is an effective way to tap into a market that is already interested in what you've got to say.
RipCurl's Online Publication 'The Search'
RipCurl started as a venture between two local surfers in Torquay, Australia. It's now one of the largest surfing companies in the world. So how did they reach and win over such far-flung audiences?
This is a challenge for brands that are location or activity-specific trying to break into larger markets. RipCurl set up a dedicated publication called 'The Search' to reach a wider audience and show exactly what the brand represents. It has morphed from films in the 80s to a print publication in the 90s, to finally become the online resource we see today.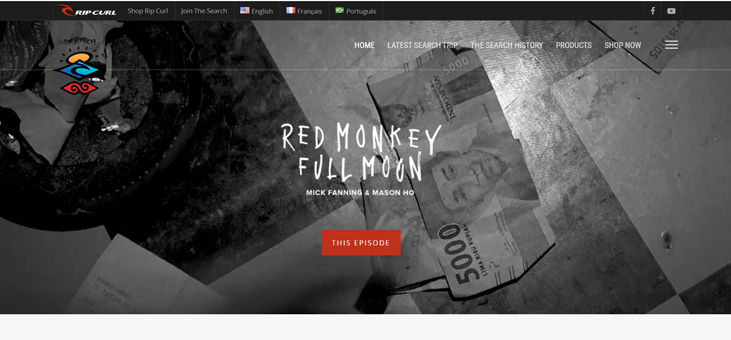 It chronicles surfers' search for the best waves in exotic locations across the world. Each 'Search' is documented with a video, multiple high-quality photos and an accompanying write up. It's told by surfers, to surfers, both experienced and aspiring. It perfectly encapsulates the surfing lifestyle so that audiences all over the world can relate and aspire to it.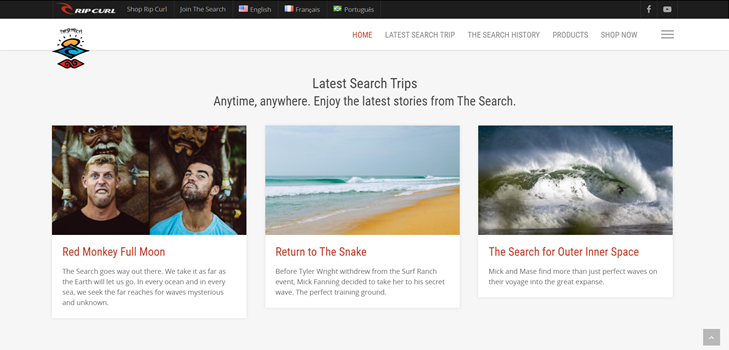 The content doesn't just sit on 'The Search' website, it is put to further use across social and video sharing platforms, massively expanding RipCurl's reach. The Facebook group has amassed an impressive 2.2million followers and their YouTube page has more than 130,000 subscribers. Although primarily a surfing brand, they have expanded their content into everything board related. Their most successful venture has been into the snowboarding market. 
Producing content that celebrates your brand's vision is a great way to resonate with your target market. Further extending the reach of your content through social media ensures you reach potential customers, wherever they are.
Spotify's 2020 Unwrapped
Every year, Spotify gives their listeners personalised insights into the artists, songs, genres and podcasts they have listened to. Spotify repackages the data they have on each listener to deliver a customised, sharable experience. It's a frequent feature of social media feeds throughout December, with people sharing their favourite content and the hours they have spent listening.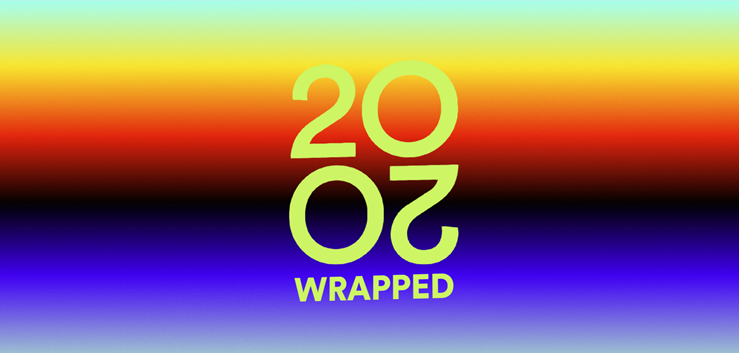 This year, Spotify has improved its standard offering with some added features and inspiring content specifically for 2020. New in-app quizzes provide an interactive element that directly engages the user. Premium users may also be awarded badges including 'Tastemaker' and 'Pioneer', delivering direct praise to loyal customers.
Referencing the long socially-distanced year we've all had, headings include, 'the longest year ever may not be over yet… But your Wrapped is finally here', and 'Who was by your side in 2020? Other than your houseplants, of course'. Other images and statistics acknowledge the unmistakable elements of 2020, such as the Black Lives Matter movement, health and wellness podcasts and working from home playlists.
Spotify's Creative Director, Dan Brill, explained that, rather than simply forget 2020, Spotify 'wanted to give our appreciation for those who gave us hope'. Along with the personalised wrap-ups, Spotify has shared messages of resilience and gratitude across their social platforms and outdoor billboards. All come with a dose of Spotify's characteristic humour, there's even a nod to Cardi B's 'invaluable wisdom'.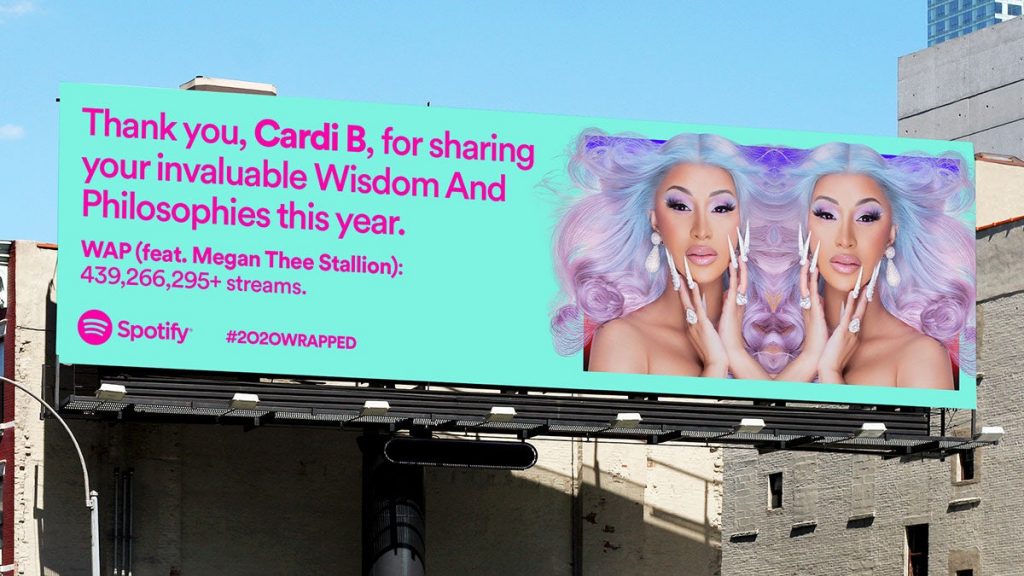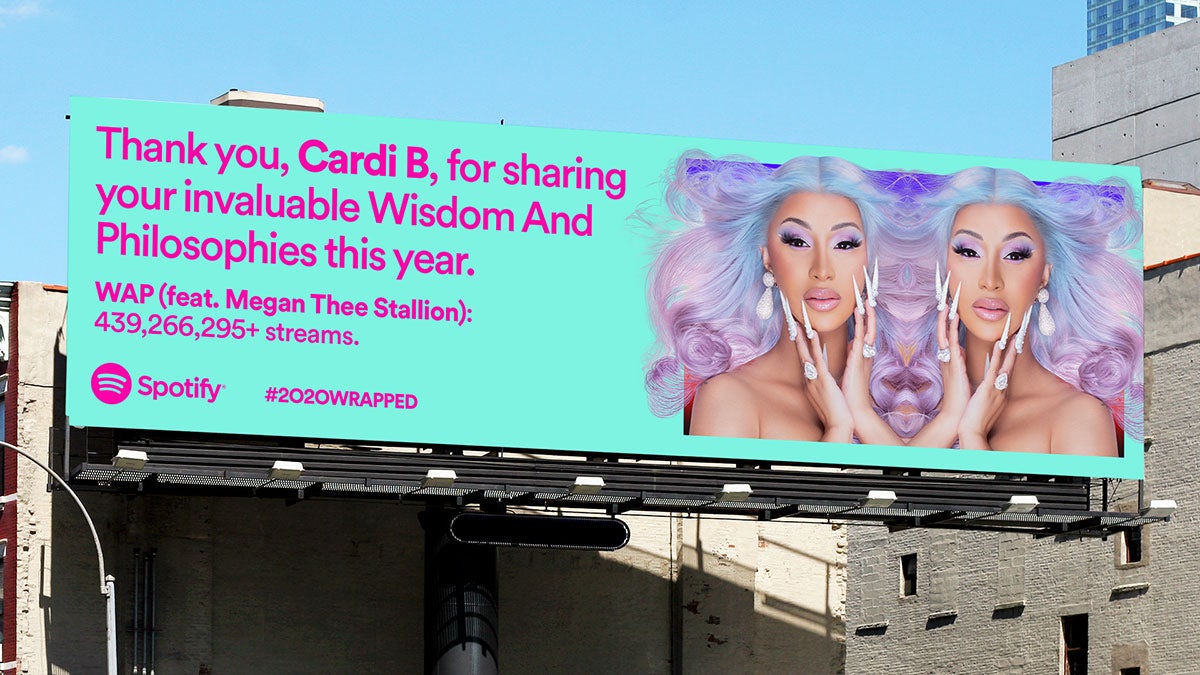 Utilising the data they already have and transforming it into highly shareable social content is a smart move. It celebrates existing customer loyalty and allows them to circulate the brand's message far and wide. The team has put in the work to achieve the right balance between gratitude and humour following a dramatic year.
Content Marketing For Your Business
When researching this article, we were impressed with the range of brands we came across. Content marketing is not just for bloggers or marketing companies, as evidenced by the huge fashion brands and travel companies attracting thousands of intentioned customers with their content. For us, Intrepid Travel's honest approach resulted in the most effective content. Attracting an organic monthly readership of 61.9K is an impressive feat for a relatively new blog. There were no gimmicks or false promises, simply a consistent output of valuable content closely related to their products and in-line with their brand values. 
The Ingeniums team can work with you to revitalise your messaging, maximize your return on existing content and boost your brand identity. If you've been inspired by the content marketing examples seen here or, better yet, have unique ideas of your own, contact us to make them a reality.